This is just a list of some of the illustrators who have worked on books we produce, plus a few more who are very good and might be worth contacting if you need an illustrator.
Please note: All artists need to be paid. Some charge more than others. There is little that annoys me more than people asking artists to work for free. You may have a friend who is willing to illustrate for you as a favour but at the very least you should offer them a royalty or return the favour in some other way. Even if you are doing something for charity, that does not mean that creators have to give their time for free. They may choose to, but they are not obliged to and should not be made to feel guilty if they don't.
Illustrators who have done work for Blue Poppy
Maggie Davies
I should preface this with a warning that you probably have to know Maggie personally to get her to do any artwork for you. She is the illustrator of The Badgers of Briarwood, by Margaret Gardner and the two are longstanding friends. But Maggie is best known as a fine-artist of considerable renown. She is known for her somewhat abstract cityscapes and has exhibited in London, New York, Austin- Texas, and Miami.
Amii James
Amii was at sixth form studying art when she was selected to illustrate For Cats' Eyes Only by Olli Tooley. She has since also illustrated the other two books in the series; Dr Gnaw, and You Only Live Nine Times.
Since leaving school she went on to study art and illustration at university as well as commencing a series of cartoons featuring minimalistic stick people and animals. Amii has a special talent for conveying an astonishing amount of emotion with just a few lines as well as having a rather wicked sense of humour.
Paul Humphreys – Inky Covers
Paul is best known for his excellent cover art under the name Inky Covers as well as producing animated book promos for social media and 3d modelling.
Paul designed the cover for Cod in Devon, by Sandy Fish. (Despite the title and author name it has nothing to do with fishing.) His bright and fun design was produced to the brief provided by Sandy and I think it captures the fun adventurous character of the book.
Paul is, at the time of writing this edit (March 2021) putting the finishing touches to illustrations for a childrens book which will be raising money for a muscular dystrophy charity, coming later in the year. I will post more details shortly.
You can see more examples of his work at https://www.inkycovers.com/
Ian Pethers
Ian Pethers is responsible for the artwork on the cover of A Clattering Beneath the Woods by Sally Hubbard. He works from Glenrock studio in the Tamar Valley where he has worked as an illustrator and artist for thirty years. It was most pleasing to be able to work with an artist who can understand the needs of a book cover and perhaps more importantly can produce such beautiful work.
I think the cover art would make a magnificent jigsaw puzzle. Certainly this is one that I know, from customer commetns, really helps to sell the book.
Ian Shapland
Ian is the artist behind the brilliant fun cartoons, including the cover art, in Mrs Slocombe's Bull at a Gate Cookery Book based in Croyde, North Devon, his style ranges from caricature to some quite life-like work, often with a gentle touch of humour. You can see more on his website here.
Robin Paul – a.k.a. The Branch Line
Robin Paul was chosen by author Janet Few to do the artwork for her second novel, Sins as Red as Scarlet. This strking red, white, and black illustration makes a really bold statement, depicting a C17th woman, head bowed, with an ominous hangman's noose in the foreground.
However, this work is astonishingly different from Robin's usual fare. See example below. You can see more like this on his Facebook page. 
Rebecca Beesley
Rebacca is the illustrator for Nicola Hedges' books. So she has done all the black and white line drawing illustrations in the interiors as well as the full colour cover art for both Cici: A Dog's Tale and AN Angel in the Middle. 
If you like her work, you can get in touch with her via
eade-rebecca [at] hotmail [dot] co [dot] uk
Colin Rowe
Colin is a professional graphic designer and illustrator who runs Corvus Design Services in North Devon. Among his clients are large holiday parks and plenty more. As I understand it, the origin of "Teeny Tiny Witch" by Sheila Golding, was as a concept for a local holiday park which then didn't come to realisation. When Sheila approached me to help publish the book she had written for that project, I was immediately enthralled by Colin's superb artwork. The story is good too but it takes longer to read a book than to look at the pictures (which, by the way, is why great illustrations are so vital to a successful children's book!)
Anne Beer
Anne has been an artist for almost as long as she has been alive, over eighty years now, and a writer for very nearly as long, as that. As she explains in her autobiography, My Life on a Cliff Edge, she was frequently locked in her bedroom by uncaring parents with nothing to amuse her except paper and pencils. So she drew pictures and wrote stories, as well as keeping diaries. She illustrates her short stories, such as those which appear in Inspiration, as well as providing the painting for the front cover of Cliff Edge. 
Illustrators who haven't worked with us yet.
Rob Page
Rob is in part the reason this page exists, because he sent me a prospecting email, and his work is so good I thought the least I could do is promote him and other talented illustrators. Rob Page illustrator website.
Rob lives in Suffolk and, although we're based in Devon, we've been spreading outwards, and Suffolk is where Sarah Kingdon-Ward (author of Go, Tony, Go!) lives.
I particularly love his children's llustration portfolio. In addition, his "about me" section on his website just makes me want to work with him all the more as he seems to have a lot of similar interests to mine.
I am gradually adding people to this list…
Bev Carson
Bev lives near Kingsbridge in Devon. 'By day' she is a professional counsellor and family intervention specialist, but she is also an acomplished artist. She sent me a couple of lovely pictures that show the sort of thing she is capable of. You can contact her via email using bevcarsonartis[AT]hotmail[DOT]com 
Rosie Burns
Rosie is an artist and teacher from Bideford. She trained and worked as an illustrator for archaeological sites, which instantly makes her vastly more interesting than 99% of the rest of us in my humble opinion. She works in a variety of media and styles. She is currently working towards publishing a series of literary and educational nature books aimed at junior school aged children.  You can see more of her work at her website here. 
Kate Garrett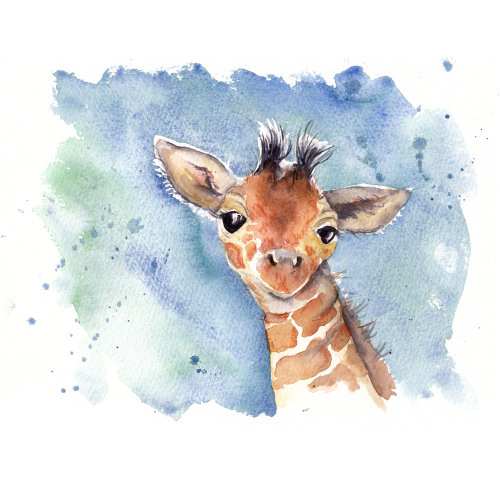 Kate is a professional illustrator who, among other things, designs cards and other items for a website called Baby Name Pictures. She also has a couple of children's book illustration credits to her name. You can see more of her work at the page about her on the aforementioned website. Here. and you can contact her through that website using kate [at] babynamepictures [dot] co [dot] uk
Jennie Cousins
You can check out local artist Jennie through her Artmakers profile below. She is working on a website and can also be found on social media.
Stephen Perham
Stephen is a 6th Generation Clovelly fisherman and Harbour Master of Clovelly. He specialises in ink and wash and coloured pencil illustration, but also does some work in acrylics. His work is influenced by the fishing and his surroundings, as well as a love of local history. IHe says he most enjoys illustrating books for children but is able to adapt to other requirements too. 
He doesn't have a specific website but you can find him on Facebook and Instagram @ stephenperham
Cherry Ferris
Cherry is a Devon based artist who paints illustrative and fantasy art with a touch of magic.
She works in watercolour, acrylic and pyrography. She loves animals and bases a lot of her work around myths and legends.
You can find her on Facebook under the name Faeriewood Art.
The painting shown here is called 'Dance Magic Dance' and is based on the Goblin King from the Labyrinth who shapeshifts into an owl. 
Martin Stickland
Martin does a variety of artworks not just for kids. He'll do you a bespoke watercolour image for a one off greetings card,  or a large wall canvas. He also takes photographs. HIs style varies but trends towards bright colours and cartoon style drawing.  
You can see more of his work, and contact him via his Facebook page.* 
*(by the way, I strongly urge everyone who works creatively to get a proper website for themselves. It is a much stronger way of presenting yourself online than relying on social media)